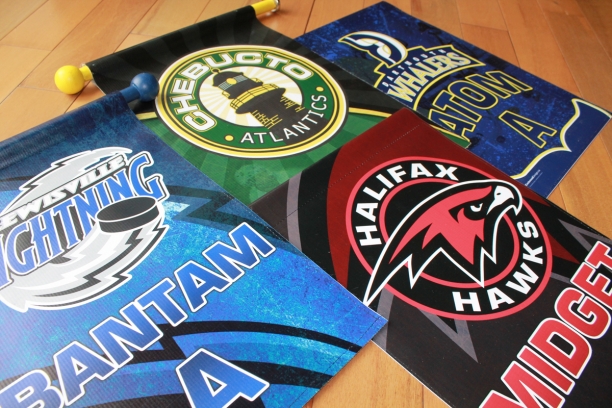 Dressing Room Door Flags
These custom made double sided dressing room banners / flags are perfect for any sports team. Equipped with a 65lb rare earth magnet these flags firmly attach to any metal door frame and promote your team. Contact us today for a custom order. Combine teams orders for the best prices.
Individual flag $40 + HST
Order 3 or more for different teams $30 + HST
3/4" Wooden Rod with rare earth magnet $15 + HST
Free Standing Pull Up Banners
33" x 81" preinstalled banner in metal stand with carrying case $212.50
Sponsor Banner for Behind the Bench
Large Team Vinyl Banners: 8' x 3' with grommets: $90 + HST
Large Team Vinyl Banners: 10' x 3' with grommets: $100 + HST
Helmet Decals and Numbers
Helmet logo decals and player numbers available. Contact for prices.
Local Pickup FREE
Outside of HRM + shipping.
Custom Dressing room Door Magents also available. Vaious sizes, contact for pricing